Living Here
New York City is unlike any other place in the world—and joining PAGNY gives you and your family the opportunity to explore it all.
You'll not only be mesmerized by the city's soaring skyscrapers and monuments, you'll be fascinated by its flourishing arts, food, fashion and nightlife scenes. With a host of cultural amenities including world-class museums, over 70 Michelin-starred restaurants, broadway shows, music and sports venues, and more, you'll quickly learn what being a New Yorker is all about.
Each borough offers its own unique amenities and experiences. Whether your perfect day involves seeing a Broadway play in Manhattan, exploring the Botanical Gardens in the Bronx, cheering on the Nets in Brooklyn, or relaxing in one of the city's 1,700 public parks, it's never more than a short walk or ride away. And day trips are easy too: family-friendly ski mountains, hiking trails in the Hudson Valley, and Long Island's iconic beaches are about an hour from the city.
In addition to being the epicenter for culture and entertainment, New York City is also a great place to start or raise a family. It's home to some of the most prestigious schools in the country, including the Bronx High School of Science (public) and Horace Mann School (private), as well as Columbia University and New York University for those interested in continuing studies. With so much to do and see, there's never been a better time to live, and work, in New York City.
Life In New York
Our Locations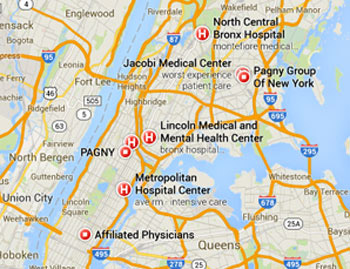 PAGNY Member's Lifestyle
PAGNY is committed to our members. The executive management team of PAGNY is made up of experts with years of experience in healthcare administration, human resources, finance, operations, legal services and communications.
At PAGNY, professionals maintain a team-oriented setting in which knowledge and information flow freely across disciplines. Our culturally sensitive, multilingual healthcare providers exhibit high levels of expertise and commitment to service.
Public Service
It's not a job. It's a Calling.
At PAGNY the focus is to prevent and manage diseases, injuries and other health conditions through surveillance of cases and the promotion of healthy behaviors, communities and environments.
Our mission is to provide efficient, accountable and responsive healthcare to the New York community through affiliations that serve the financial, educational and entrepreneurial needs of our members.